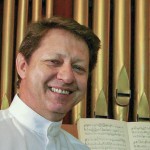 Wim Viljoen is a professor of organ and head of the Music Department of the University of Pretoria.
He has studied with Stephanus Zondagh at UP and continued his studies under Marie-Claire Alain in Paris.
He has played recitals in the USA as well as in the UK, The Netherlands, Switzerland, France, Germany and the Czech Republic. He has released 8 CD's to date, amongst which are "Recital" (organ solo) and "Arioso for violin and organ" with violinist Zanta Hofmeyr.