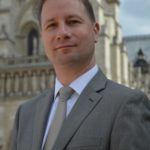 Johann VEXO was born in 1978 in the northeastern French city of Nancy. At the age of 25, he was appointed Choir Organist of Notre-Dame Cathedral in Paris. Soon thereafter he was also appointed Organist of the Cavaillé-Coll organ of the Cathedral in Nancy. After teaching at the Angers Conservatory for 10 years, he is now Professor of Organ at the Conservatory and at the Superior Music Academy in Strasbourg.
Johann Vexo first studied organ with Christophe Mantoux, as well as early music and harpsichord at the Strasbourg Conservatory, where he was awarded Premier Prix in organ.
He continued his studies at the Paris Conservatory where his teachers included Michel Bouvard and Olivier Latry for organ, Thierry Escaich and Philippe Lefebvre for improvisation.
He earned Premier Prix in both organ and basso continuo and additional prizes in harmony and counterpoint.
Johann Vexo has performed extensively throughout Europe, the United States, Canada, Australia, New Zealand and Russia. He has appeared as a featured artist in numerous international music festivals and organ series in cities such as Atlanta, Auckland, Dallas, Düsseldorf, Los Angeles, Melbourne, Montreal, Moscow, New York, Porto, Riga and Vienna. His performances have also included notable venues such as the Basilica of the National Shrine in Washington DC, the Wanamaker Grand Court in Philadelphia, the KKL in Lucerne, the St. Mary's Cathedral in Sydney and the Yekaterinburg Philharmonic Hall.
Johann Vexo has also performed with various orchestras and musical ensembles.
He has been invited to teach organ master classes for the American Guild of Organists and at prestigious institutions including Rice University in Houston, the Curtis Institute of Music
in Philadelphia, Westminster Choir College in Princeton and Aveiro University (Portugal).
He has recorded several CDs on historical French organs, especially one on the JAV Recordings label on the great organ of Notre-Dame Cathedral in Paris.
Johann Vexo is represented by Phillip Truckenbrod Concert Artists, LLC.