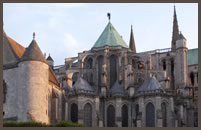 In 1971, with the support of André Malraux, Minister of Culture, the association created the international organ competition "Grand Prix de Chartres" which quickly became the most prestigious and most famous competitions in the world. This biennial competition reserved for organists under 32 years, collected and federated more than 1000 candidates from all over the world, tens of winners including 34 Grands Prix, most prominent jury members, the unanimous support of an entire profession and of the public.
The competition of Chartres in its field represents "the Olympics of the organ" : be admitted to the competition is the primary objective of all young organist. It is now essential springboard for an international career. The judges are undisputed masters of the organ, internationally renowned concert artists, teachers of schools and universities. In 47 years, the competition has received 148 jurors (90 foreign and 58 French).
The competition includes tests of interpretation and improvisation, an art in which organists perpetuate a secular tradition, and awards in each discipline, a great price and a second prize, and an audience prize and various other prizes.
Assorted numerous awards including seventy commitments in the highest places of the organ and major festivals around the world (Europe, USA, South America, Canada, South Africa, Korea, Japan, Russia, etc. …). All successful candidates undertook an international career.
The winners are the ambassadors of Chartres and sponsors who support them, contributing their talent and international career to the reputation of the association and its partners.
A prestigious artistic committee guarantees the excellence of the competition level. Composed of French organists and most prominent foreigners, holders of teaching chairs and the most prestigious organs, the artistic committee supports the action of the association with the world of culture, institutions and public opinion. Through its members, the association is in permanent contact with international life of the organ.
Serving heritage and creation, the association shall disseminate the great works of the repertoire and the creation of new works. The association has ordered ten works of French composers, and has promoted young composers such as Thierry Escaich, Valéry Aubertin.
A global event, national and regional : public finals are an international event that brings together and unites a large audience, and a host of personalities and music lovers who are passionate about this major international tournament.
The promotion of young talents, launching an international career, such results are recognized by our partners and the cultural world. Number of winners, and selected candidates are now holders of the most famous organs (Notre-Dame de Paris, the Basilique du Sacré-Cœur, Saint Denis Basilica, Saint Antoine des Quinze Vingt, Sainte Clotilde, Saint Étienne du -Mont, St. Severin, St. Sulpice, Trinité, to name noly Paris) and teaching in the major music conservatories and universities (Paris, Lyon, Strasbourg, Germany, USA, Great Britain, Hungary, Sweden etc …).