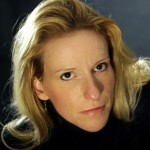 The audience has credited her with Standing Ovations and Bravos at her debut at the prestigious Schleswig-Holstein-Musikfestival. German newspaper "Die Zeit" testifies : "Elke Voelker plays with such an extemporizing directness and burning, highly virtuos energy that you feel imposed to go down on your knees before her (the organ)." Her Karg-Elert recordings are described as "Highly recommended" by the English magazin "The Organ"…
Ms. Voelker has been a prizewinner in several international competitions including the Grand Prize and Audience Prize at the prestigious "Internationalen Orgelwettbewerb Dom zu Speyer" in 1995. In 1999 she was finalist of the "Concours International d'Orgue de la Ville de Paris and obtained the "Medaille de la Ville de Paris". 2002 she won the 3rd Prize of the "International Organ Competition of Erfurt". 1994 she got scholar of the Robert-Bosch-Foundation, 2001 of Rotary International.
Since then her international success has last but not least established her excellent reputation as one of the most demanded organists of the younger generation, which led to an extensive international concert and teaching career (lectures/masterclasss).
As recording artist she has published 8 CDs and is featured exclusively by the German Organ Music Label AEOLUS. Her specialization in the organ works of Sigfrid Karg-Elert has resulted in the world premiere recording of his complete organ works (Label AEOLUS, Karg-Elert Edition). In this ongoing project, the first five CDs are available for sale. The project earns high praise from critics and public alike: In 2003 and 2004 her Vol.2 and 3 were rewarded "5 Diapason" by the french magazine, in 2007 Vol.5 obtains the mention "Repertoire 9" by Classica.
Her concert activity includes participation in the most prestigious international festivals in Europe, Australasia and Canada. Ms. Voelker was recently a featured performer of the RCCO (2006) and of the FFAO Congrès (2007). In June 2008 she was invited to perform at the AGO National Convention in Minneapolis. She has guest appearances with international orchestras as soloist and continuo player. Numerous international broadcastings and television recordings testify to her extensive activities. She is member of the English Karg-Elert Archive, of the German Gesellschaft der Orgelfreunde (GdO), the American Guild of Organist and Honorary Member of the Associazione Organistica Siciliana.
Ms. Voelker has worked as Choir Organist and Cathedral Music Associate at the UNESCO Heritage St. Marys Imperial Cathedral of Speyer where she is well–known also as conductor and composer for organ and choir music. March-September 2009 she was nomminated interims Music Director (choir, organ) at Speyer Cathedral.
Ms. Voelker received her broad musical education in Germany, France, and USA. She studied organ, piano, harpsichord, conducting and church music at the Musikhochschulen in Mannheim (Concert Diploma "with distinction") and Mainz. Her teachers include Leo Krämer (organ), Hans-Jürgen Kaiser (improvisation) and Mathias Breitschaft /Michael Hofstetter (conducting). A scholarship allowed her to study abroad with Wolfgang Rübsam (University of Chicago) and Michelle Leclerc (Schola Cantorum, Paris), where she obtained a «Premier Prix» with distinction "très bien a l'unanimité" (organ/improvisation). She has attended master classes and private studies with Jean Guillou and Daniel Roth (Paris), Nicholas Kynaston (London), Jon Laukvik (Stuttgart) and Piet Kee (Haarlem).
Besides this, she has received degrees in Musicology and Roman/German Studies at the University of Heidelberg. Journalistic activity as music critic has been added to various musicological publications, including articles in encyclopedias like the new edition of Musik in Geschichte und Gegenwart (Bärenreiter), in the review «ORGAN – Journal fur die Orgel» (Schott) and in The Sydney Organ Journal.
Ms. Voelker is Honorary Member of the English Karg-Elert Archive, Founder and Artistic Director of the international concert serie Deidesheimer Musikherbst and of the Russian International Organ-Festival Philharmony Perm (since 2006). As Rotarian, she has founded the German Rotary Choir and was awarded with the Paul Harris Fellow Medal in 2007.