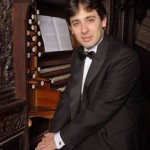 Born in 1980, Vincent DUBOIS began organ studies at age 11 in the organ school of the Cathedral of St. Brieuc, France, then studied at the National Conservatory of Angers. In 1998, he was accepted to the Conservatoire National Supérieur de Musique de Paris in the organ class of Olivier Latry and Michel Bouvard, and the following year was admitted to the composition class.
Vincent Dubois has performed in many countries throughout Europe as well as the United States, Russia, Canada, and the Far East. In addition, he has won a number of prizes, among them the Gold Medal and First Prize of the National Conservatory of Angers, and first prizes in 20th-century composition, organ improvisation, harmony, counterpoint, fugue, and organ interpretation at the Conservatoire National Supérieur de Musique de Paris. He won the Recital Gold Medal at the 2002 Royal Bank Calgary International Organ Festival and Competition, and most recently, the 1st Grand Prix in the 2002 International Competition of Toulouse.
Dubois has also appeared with many orchestras and ensembles including the Orchestre Philharmonique of Radio France, the French National Orchestra, the Orquesta Filarmonica del Gran Canaria, the Orchestre de Picardie, the Orchestre de Bretagne, Le Madrigal de Paris , and the Ensemble Vocal Michel Piquemal. His performances have been broadcast over Radio France, the ORF Vienna, CBC Radio Canada, and Australian Radio.
By the age of 16, Dubois was named titular organist of the Cavaillé-Coll organ at the Cathedral of St. Brieuc. He currently teaches harmony and counterpoint at Angers National Conservatory, where in 2005 he was appointed assistant manager of the conservatory. He is now Director of the Conservatoire and superior Academy of Music of Strasbourg. He is also the titular organist at the Cathedral of Soissons.