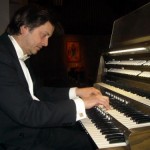 Born in Romania, Valentin Radu began his music studies at age four. At age six he made his first concert debut. In 1973, at 16, he won the prestigious Rome Piano Competition, and in 1979 – the Saarbrucken Organ Competition. In 1980, he won the silver medal (gold was not awarded) at the Bach International Competition in Leipzig.
Maestro Radu holds Doctoral and Masters degrees from the Juilliard School and a Bachelor of Music degree from the Bucharest Academy of Music. In 1976, he founded and conducted Juvenes Musici, a chamber orchestra under the auspices of the Bucharest Philharmonic. In 1980 he founded "The Juilliard Bach Players" chamber orchestra and initiated the "Bach at Juilliard" concert series at New York's Lincoln Center.
In 1984 Valentin Radu was invited to inaugurate and later (in 1985) make the first and only LP solo recording on the newly re-built organ of the Imperial Chapel of Schonbrunn Palace in Vienna. The original instrument was built in 1721, on which Mozart himself performed during his 12 years as Vienna's Court Musician.
In addition to being a classical music scholar and artist, Valentin Radu is equally accomplished in jazz performance as a conductor and a solo performer. In December 1998, he conducted the 97-member Bucharest Philharmonic in a Gershwin Centennial Gala concert, featuring the Rhapsody in Blue (Dan Grigore, soloist), An American in Paris, and Porgy and Bess. In November of 1999, Radu conducted the Arad Phiharmonic in a centennial concert featuring works by Duke Ellington and George Gershwin. Since May 2000, Maestro Radu has conducted extraordinary jazz concerts in Bucharest, with his "Sound" jazz group, featuring singer Teodora Enache and Romanian jazz legend Johny Raducanu.
In May 1999, Radu participated in the historic visit to Romania of Pope John Paul II. In September 2004, he was invited to be the sole performer at a special U.N. gala in New York honoring the President of Romania.
In December 1997, Radu was awarded the Golden Apple by New York City Mayor Rudolph Giuliani. In February 1999, the Romanian Music Critics' Association named him "1998 Musician of the Year". In April of 2003, Radu was bestowed the title of Honorary Citizen of the City of Bucharest by the mayor of his native town who is presently Romania's President.
On December 20, 2005, Valentin Radu received the highest civil award of Romania : The Grand Officer of the Order of Cultural Merit (Romanian equivalent of The French Legion of Honor or British Knighthood), in recognition of his life achievement in the arts and his efforts as "Cultural Ambassador" of Romania. Radu became the seventh and youngest recipient of this most prestigious award in the history of Romania.
Valentin Radu, Founder, Artistic Director and Conductor of the Ama Deus Ensemble and Vox Renaissance Consort, has led numerous orchestras and vocal ensembles in Europe and the U.S., including the Hungarian National Philharmonic, Bucharest, Arad, Oradea Philharmonics, the Budapest Chamber Orchestra and the Romania National Radio Orchestra. In 1996 he conducted the Bucharest Philharmonic in Handel's Messiah, and in 1997 led the Romanian National Radio Orchestra in Handel's Acis and Galatea (both English language premieres).
He has conducted Vox Ama Deus in various programs ranging from motets and madrigals to authentically staged Renaissance operas performed on original instruments. Since 1997, he conducts Ama Deus Ensemble and Maestro Dan Grigore, a legendary Romanian pianist, in their annual Viennese Gala concerts in Philadelphia. He also conducted Ama Deus Ensemble in its yearly Good Friday performances at Cathedral Basilica of SS Peter and Paul in Philadelphia.