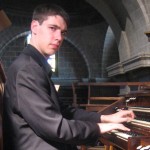 Born in 1988 in the region of Nantes, Pierre QUEVAL is a graduate of the Conservatories of Nantes and Saint-Maur-des-Fossés, where he studied organ and improvisation with Michel Bourcier, Éric Lebrun, and Pierre Pincemaille.
He continued his studies in Master cycle at the Conservatoire de Paris (CNSMDP), he is in both the organ class of Michel Bouvard and Olivier Latry and the improvisation class of Thierry Escaich and Philippe Lefebvre. In 2013, he received both his Bachelors degree in organ-interprétation (mention très bien) and his diploma in counterpoint, which he studied in the class of Pierre Pincemaille.
Organiste Titulaire of the Gloton and Debierre organs of Saint-Clair (since 2006) and Sainte-Anne (since 2011) in Nantes, and assistant organist of the historical Debierre organ at Notre-Dame-de-Bon-Port in Nantes (since 2007), Pierre Queval performs recitals all across France. He performs regularly in Paris (at churches including La Trinité, Saint-Sulpice, and Saint-Séverin) and has been invited to perform at many renowned festivals, including "Radio France Montpellier/ Languedoc-Roussillon", "Festival de la Chaise-Dieu", "Les Soirées Estivales" at the Cathedral of Chartres, the Festival of the Abbey of Royaumont, "Le Festival de Musique Sacrée de la Cathédrale de Saint-Malo, "Le Son des Orgues" at the cathedral of Orléans, the festival "Musique en Côte Basque," and "Musique Sacrée à la Cathédrale de Nantes".
As an accompanist, Pierre Queval plays with several different vocal ensembles (Chœur Aedes, Chœur et Orchestre National des Pays de la Loire, Schola Cantorum de Nantes, Chœur "Éclats de Voix"…) as well as with many différent vocal and instrument soloists. Together with singer Ellen Giacone, he is currently preparing a CD recording devoted to sacred music of the 19th and 20thcenturies. In this spirit of chamber music, Pierre Queval has also recently founded a trio with flautist Charlotte Berthomé and violinist Mathilde Gandar.