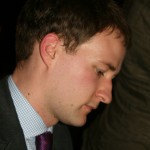 Timothy Ravalde is the Assistant Organist of Chichester Cathedral and Musical Director of Fernhurst Choral Society. At Chichester Cathedral he is responsible for accompanying the daily choral services and assisting with the training of the choir.
He was educated at the Nelson Thomlinson School – Wigton, during which time he became Organ Scholar of Scholar of Carlisle Cathedral and a Fellow of the Royal College of Organists. He then spent a year as Organ Scholar of Salisbury Cathedral.
He graduated from Cambridge University in 2010. As Organ Scholar of St John's College he accompanied the choir for numerous tours, the famous annual Advent broadcasts and three critically acclaimed CD recordings with Chandos, as well as the daily chapel services. He also acted as Musical Director of the St John's Singers, the College's mixed voice choir and won the 2009 Brian Runnett Prize for organ playing.