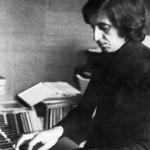 Jean-Claude Raynaud was born June 30, 1937 in Mazamet (Tarn).
He continued his studies at the National Conservatory of Music in Paris where he won First Prize for harmony, counterpoint, fugue, piano accompaniment, organ.
Vocal coach at the Opera from 1965 to 1972, he was then appointed professor at the Conservatoire National Supérieur de Musique de Paris where he teaches harmony.
Jean-Claude Raynaud is also organist titular at the Reformed Church of the Annunciation in Paris.
Discography :
Anthology of French organ music (VOX SVBX 5312)
Organ works of Olivier Messiaen (CBS 34-61250).
Works for brass and organ (with Brass quintet of the Orchestre de Paris) (Decca 7283)