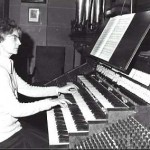 Françoise Renet (Paris May 20 1924 Paris – Versailles March 23, 1995) was an important French organist.
She studied with Marcel Dupré (organ), Maurice Duruflé (improvisation), and Nadia Boulanger (harmony).
For 40 years she was associated with the great Cavaillé-Coll at Saint-Sulpice (Paris).
In 1955 Dupré named her Assistant Organist.
Upon his death she became Interim Organist (1971-1973), after which she was named Co-Titular Organist with Jean-Jacques Grunenwald. After Grunenwald's death she again became Interim Organist (1983-1985), until the nomination of Daniel Roth.
From 1972 to 1990, Renet taught the organ class at the Marcel Dupré Conservatory in Meudon.