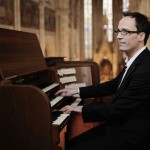 Ulrich Walther (born in 1980) studied at the University of Music and Performing Arts in Stuttgart (Germany), where he passed all exams (bachelor in Church music, diplomas in concert performance and music teaching, magister in school music) with distinction. During that time his professors were Prof.Dr.Ludger Lohmann (organ), Prof.Dieter Kurz (Conducting) and Hans-Martin Corrinth (Improvisation).
He took part in organ master classes with Lorenzo Ghielmi, Daniel Roth, Hans-Ola Ericcson, David Sanger, Heinz Wunderlich, Gerhard Weinberger, Jon Laukvik.
He gained several prizes : 2005 1.prize of the International Organ Competition in Korschenbroich (Germany), 2006 2.Second prize and spezial award for the comissioned modern piece of Thomas Daniel Schlee at the International Organ Competition in Graz (Austria), 2006 2.prize of the International Organ competition in Heidenheim (Germany), 2007 1.prize and audience prize at the International Organ Festival in St.Albans (GB), 2008 Scholarship of the "Deutscher Musikrat", where he was taken up in the federal choice "Konzerte Junger Künstler".
From October 2008 until 2010 he taught as a guest professor organ, improvisation and figured bass at the Conservatory in Graz (Austria). Since October 2010 he is regularly working as a professor in Graz.
He played concerts at well known organs or festivals (Nürnberger Orgelwoche ION, Thüringer Bachwochen, Bodensee Musikfestival, Oberstdorfer Kunstsommer, Organ Festival Oviedo, Orgelfestival Bergamo, St.Albans, Los Angeles St.James' Episcopal Church, Wormser Dom, Chartres Cathedral, Stadthalle Wuppertal, Edinbourgh St.Giles, Birmingham Townhall, St.Bavo Haarlem and a tour through Russia).
In August 2010 he released his first CD mit Bach-Arrangements by Max Reger with the british Label Priory, recorded at the historic Sauer-organ in Bremen Dom. Soon he will make a recording of the complete Bach-transcriptions for organ by Max Reger.