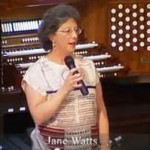 Jane Watts is regarded as one of Britain's leading concert organists. She made her Royal Festival Hall recital debut in 1986, a season during which she also became the Royal College of Organists' first 'Performer of the Year' : her debut in the world-famous BBC Promenade Concerts in London's Royal Albert Hall took place in 1988, as soloist under conductor John Mauceri. Since then her career has taken her all over the world, with performances in the USA, Europe, Hong Kong, Australia and New Zealand in addition to numerous appearances throughout Great Britain. "Seldom do you hear an instrumentalist so confident and capable as Jane Watts : she demonstrated total self-possession, in addition to ample musical knowledge" – wrote the reviewer in New York – The Sun of her recital in Trinity Church, Wall Street in July 2008. She will return to the USA in 2013.
In July 2011 Jane Watts gave the opening recital of the first international organ series in the Frits-Philips Concert Hall, Eindhoven.
Miss Watts has recorded exclusively for Priory Records since 1988. Her many recital recordings have garnered superlative reviews from a widely-respected range of publications : the next will be from St Andrew's Cathedral in Sydney. In 2007 she recorded the two organ concertos by Richard Popplewell with the Ulster Orchestra under Sir David Willcocks. She has also recorded several recital programmes for the BBC, in Britain, France and Germany, and additionally broadcast on radio in the USA, Australia and New Zealand.
Jane Watts has appeared as concerto soloist under conductors including Matthias Bamert, Richard Hickox, Sir Roger Norrington, Yan Pascal Tortelier and Sir David Willcocks, and with orchestras including the London Philharmonic, the BBC National Orchestra of Wales, the Ulster Orchestra and the London Mozart Players.
From 1991 Jane Watts was, in parallel with her busy career as a soloist, the organist of the world-famous Bach Choir of London – the first woman to hold the post since the Choir's foundation in 1876. Under Musical Director Sir David Willcocks, and his successor in 1998 David Hill, Miss Watts appeared both as soloist and as organ accompanist to the Choir in Britain, the USA, Europe, the Middle East and New Zealand. During its visit to the 10th Al Bustan Festival in Beirut, she undertook the formidable organ part in the world premiere of Naji Hakim's Gloria. She relinquished this position in July 2010, when the Musical Director required the postholder additionally to act as Assistant Conductor.