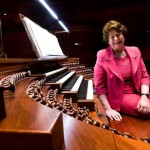 Born : January 17, 1941 – Martinborough, New Zealand
The New Zealand-born concert organist and harpsichordist, Gillian Constance Weir, studied at the Royal College of Music in London from 1962 to 1965. In 1965-1966 she also studied privately with Anton Heiller, Marie-Claire Alain and Nadia Boulanger.
Gillian Weir made her solo recital debut at the Royal Festival Hall in London in 1965. The same year she made her debut as concerto soloist on the Opening Night of the Promenade Concerts at the Royal Albert Hall. Since 1965 she is recognised as Britain's foremost concert organist and latterly harpsichordist. She has appeared in concerts with all leading British orchestras, and numerous foreign orchestras, including Boston Symphony Orchestra, Seattle Symphony Orchestra, Australian ABC, and Württemberg Chamber Orchestra. She has played under noted conductors, such as : Claudio Abbado, Malcolm Sargent, Colin Davis, Andrew Davis, Raymond Leppard and Michael Gielen. She appears regularly at all major International Festivals, including : Edinburg, Flanders and Aldeburgh.
Through her unique career as an internationally acclaimed concert organist, performing world-wide at the major festivals and with leading orchestras and conductors, Gillian Weir has become established as a distinguished musician known for her virtuosity and integrity, her reputation extending well beyond the world of the organ. Her renown as a performer, which has stimulated numerous young players to follow her, is backed by her scholarly reputation ; she is in demand as an adjudicator for all the leading international competitions and as lecturer, broadcaster, teacher and writer, while her television appearances have reached vast new audiences.
Her repertoire is exceptional in its breadth and variety, stretching from the Renaissance to contemporary works. Gillian Weir has performed the complete works of Bach as well as others including Messiaen, and her pre-eminent position as Messiaen interpreter has been underlined with her CD release of his complete organ works – received universally with such plaudits as that from Le Monde : "This intégrale is a worthy successor to that by Messiaen himself" – and also by her contribution to Faber's The Messiaen Companion and other publications.
Gillian Weir has received many prizes, awards and honours, and in the 1996 New Year's Honours List was created Dame Commander of the Order of the British Empire in recognition of her services to music, having been made CBE in 1989. Her achievements have been marked by the reissue on CD of her famed series of Argo recordings, and her nomination by Classic CD magazine as one of the 100 Greatest Keyboard Players of the Century, as well as by The Sunday Times as one of the 1000 Music Makers of the Millennium. In December 2000, ITV South Bank Show chronicled her world-wide activities as a performer, teacher and recording artist in a highly acclaimed documentary. She has recently accepted the appointment of Distinguished Visiting Artist at the Peabody Conservatory of Music at Johns Hopkins University in Baltimore USA.
Gillian Weir's schedule last year (2006) included recital and concerto appearances in Berlin, Canada and the USA (including the spectacular Disney Hall in Los Angeles), the new Esplanade Concert Hall in Singapore, and festivals throughout Europe. In October she gave the first full-scale recital for several decades at the Royal Albert Hall, to an audience of over 2000. Her much praised Organ Master Series for Priory Records continued with the double-CD sets of Bach, including the Leipzig Chorales on the new organ at Bach's own church of St Thomas, Leipzig. This was followed by the first in a new series of concert-hall recordings, celebrating the Albert Hall's refurbished organ ; the next, made in the Royal Festival Hall just before the organ was removed for restoration, followed in February, and the third in the series, from Symphony Hall, Birmingham, is just released. The re-release of her legendary Messiaen recordings (containing the three posthumously published works and thus one only two complete sets) have received further acclaim, being hailed by Gramophone as "one of the finest organ recordings ever made".