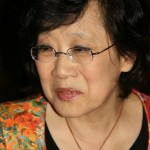 Tong-Soon Kwak was born into a musical family in Seoul, South Korea. She was greatly influenced by her father, Sang-Soo Kwak, a well-known conductor and organist in South Korea, she studied organ with him at Yonsei University. Her Fulbright Scholarship permitted her to study organ with Marilyn Mason and harpsichord with Ed Parmentier at the University of Michigan, USA, where she obtained Master and Doctor of Musical Arts degrees.
She has performed extensively in Korea, USA, Europe as well as Asia and has served on international competition juries such as Calgary, Canada CIOC, Jordan, Erfurt, Odense, Russia Tariverdiev, Musashino-Tokyo… She is the artistic director of Torch International Organ Academy in Seoul.
She has performed with the Korean National Symphony and Seoul Philharmonic Orchestras. Her recording was released by KBS, Korean National Radio as a part of the series 'Korean Musicians of the 21St Century'.
Tong-Soon Kwak has served as a President of the Korean Association of Organists as well as a Director of Church Music Research Society of Korea. She is currently Professer of Organ, Director of Music Research Institute and Chairman of the Church Music Department at Yonsei University in Seoul, where she has been a faculty member since 1987.