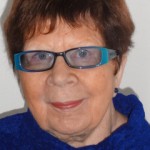 Grethe KROGH was Professor of Organ and Chairman of the Organ Department at the Royal Danish Academy of Music for several years. Prior to her appointment at the Academy, she was organist at the famous Holmens Church in Copenhagen. In 1990 she left the Academy to devote more time to her career as concert organist.
Grethe Krogh graduated from the Royal Danish Academy of Music with degrees in piano, organ and harpsichord. Additional studies were undertaken with André Marchal in Paris.
An extensive concert career has taken Grethe Krogh throughout Europe, the former Soviet Union, Canada, Japan, and the United States. She has served on juries for international organ competitions, including the prestigious Chartres and Nuremberg competitions. She is internationally acclaimed by critics for her performances and many recordings on Lyrichord Discs, EMI, Dacapo and Danacord. She is especially recognized for her interpretation of Danish music, including the organ works of Carl Nielsen. Her keen interest in contemporary music has led to several premiere performances of new works for organ. She has attracted students from throughout Europe and the United States. Many of her students have distinguished themselves in national and international competitions and important collegiate and church positions.
Grethe Krogh has received many honours and awards, including the coveted prize from the Copenhagen Music Critics, the Tagea Brandt's Prize of Honour, the Carl Nielsen and Anne Marie-Carl Nielsen Prize of honour, and the Prize of Honour of the Carl Nielsen Society in Denmark 2005.