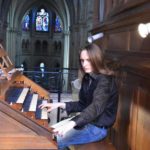 Tom RIOULT was born in 1997; he was six years old when he took his first music lessons at the regional Conservatory in Caen.
He starts learning to play the trombone in the class of Jan-Louis Basset, later, he is taking in parallel organ lessons in the class of Erwan Le Prado .
2015 he passed his A-levels at the Conservatory, section 'music and dance' as well as the trombonist diploma in the class of Clément Carpentier.
2017 he obtained the organ diploma (in Mai) as well as the A-levels in music analysis in June the same year.
Today he is entirely dedicated to completing his musical professional training, studying organ with Erwan Le Prado and Saki Aoki, deepening his practical knowledge in improvisation, and at the same time in music theory: composing and history of music.
In the frame of this studies Tom Rioult has already taken part in some international competitions: In March 2016 he won the First Prize at the 'International Kurt – Bossler Organ Competition' in Freiburg im Breisgau (Germany), in August 2017 he was awarded the Second Prize at the International Organ Competition in Armagh (Ireland).
In July 2019, he won the second prize in the Saint Albans International Organ Competition 'Interpreting' (England).
Tom Rioult has given several concerts on organs in the northern part of France: e.g. in Caen on the instruments in the churches St. Peter and St. John, in the "Abbey aux Hommes" dedicated to St. Etienne, in Notre-Dame-Church in Vire, in Vimoutiers and Evrecy, in the cathedrals of Bayeux and Lisieux; he has also been invited to play during several festivals in Falaise (Notre-Dame de Guibray), in Argentan…..