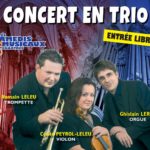 Romain LELEU (trumpet), Ghislain LEROY (organ), Cécile PEYROL-LELEU (violin) – Saturday, May 25 at 9:00 pm in the cathedral of Chartres…
An exceptional concert in co-production with the Samedis Musicaux of Chartres.
On the program, works by J.S. BACH, W. CORBETT, C.M. WIDOR, G. FAURÉ.
Free entry – opening of a cathedral at 8:30 pm.
A quest, allowing free participation, will take place on site.
CÉCILE PEYROL-LELEU is from Grenoble, studying violin with J.J. Kantorow in the Netherlands and then at the CNSM in the class of P. Fontanarosa where she is awarded with a diploma with the mention Très Bien. She is a laureate of several international competitions and is noticed by Gidon Kremer.
She gives concerts as a soloist, chamber musician and orchestra worldwide, then creates the ensemble Convergences with Romain Leleu who became her husband.
ROMAIN LELEU was born in Lille in 1983. He is considered one of the best trumpeters of his generation. After his 'Victory of the Music' in 2009, Maurice André congratulates him and regards him as his worthy heir to the French trumpet school. A compliment that Romain Leleu defends at each of his concerts, because "without trimming on the virtuosity, his game disconcerted by his sense of dialogue and his singing lines, whose harmonic richness and delicacy compete with the human voice".
(Le Figaro, nov 2011)
GHISLAIN LEROY born in Tourcoing in 1982. At only 22 years old, he won the first interpretation prize at the International Organ Competition of the city of Paris. This award propels him on the international scene where he is hailed as one of the most talented organists of his generation. Heir to the French organ school and appreciated for his thorough knowledge of repertoires and instrumental styles, Ghislain Leroy likes to propose in his programs a broad panorama ranging from Baroque to contemporary.