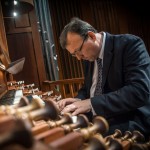 Stefan Engels was born in Germany and received his musical education in both Germany and the USA.
He studied organ, piano, harpsichord, conducting and church music at the Musikhochschulen in Aachen, Düsseldorf, and Kôln, and in 1993 moved to the USA to pursue further organ studies with Robert Anderson and Wolfgang Rübsam.
In 1995 Stefan Engels received the Artist Diploma degree in organ performance from Southern Methodist University. He has participated in master classes with Marie-Claire Alain, Guy Bovet, Ewald Kooiman, Ludger Lohmann, Günther Kaunzinger, and Harald Vogel.
Stefan Engels won several awards and prizes during his studies in the USA including First Prize at the William C. Hall Organ Competition in San Antonio in 1994 and First Prize at the Concerto Competition at Southern Methodist University in Dallas the same year. He was a finalist in the 1996 American Guild of Organiste National Organ Competition.
In 1998, lie won the Concerto Gold Medal at the Calgary Organ Competition.
He has performed throughout the USA, Canada, Belgium, Italy and Germany as soloist, accompanist and member of ensembles, including a recital at the 1998 Karg-Elert Festival Berlin. He has made two recordings of works by Marcel Dupré on the Naxos label which were released worldwide in 1999. He has held positions as organist, organ scholar, director of music and choirmaster in Germany and the USA.
Stefan Engels is currently Asociale Professor of Organ at Westminster Choir College, Rider University, Princeton. New Jersey, USA.