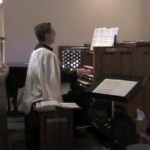 Organist and Director of Choirs for The Episcopal Church of St. Paul in the Desert in Palm Springs, California, Nathan B. Ensign has been active in LPM since it's beginning in 1995.
He was coordinator for the local program in the Diocese of California (the San Francisco Bay Area), and is the LPM National Board Past Chair.
Having graduated with a double major in Church Music and Organ from Texas Christian University, he continued his musical training in France for eight years studying with such masters as Jean Langlais, Gaston Litaize, Pierre Cochereau and Daniel Roth.