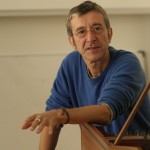 Freddy Eichelberger, organist and harpsichordist, was born in Paris. After extended studies of organist and harpsichordist, he mainly dedicates himself to chamber music on ancient instruments and to musical theatre with, for instance the ensemble Les Witches.
His growing taste for improvising brought him to play with musicians of all origin, as well as to teach one­off at the Festival of Improvised Music of Lausanne and in various academies. He's also playing since long and beautiful years with the violonist Odile Edouard, in duett or in the ensemble Sine Titulo.
Freddy Eichelberger co­organizes the complete Johann Sebastian Bach cantatas to be performed at the Bastille Eglise Réformée of Paris.
http://www.lescheminsdetraverse.net/artistes/freddy-eichelberger/