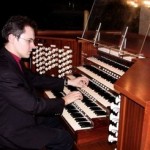 The Russian and French Slava Chevliakov, was born in 1970 in Budapest.
In 1989 he entered Moscow's Tchaikovsky State Conservatoire of Music, taking courses in organ, piano, the theory and history of music, orchestration, ethnomusicology and other subjects.
In 1998 he was awarded first prize in the Concours d'Orgue of the UFAM in Paris.
Slava holds a French State Diploma as an organ teacher in France. He is the only non-French organist to have been awarded this title by the Conservatoire National Supérieur de Musique in Paris.
Since he speaks several languages, Slava Chevliakov has acted as interpreter in master classes given by the most prestigious artists at the Tchaikovsky Conservatoire in Moscow.
Slava Chevliakov has given concerts in all Europe.
He is at present official organist for the church of Saint Léon in Paris. Additionally he teaches the organ at two Conservatoires in the Paris region and is a regular jury member for competitions.