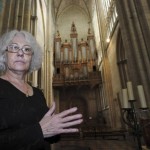 Born in Le Mans (Sarthe) in 1947, she began her musical studies at Le Mans with Leon Biautte and continues at the Conservatory of the city (music theory, counterpoint, piano, organ) with Éliane Lejeune Bonnier and Gérard Letellier) before entering the Paris Conservatory where she studied Roger Boutry for harmony, Jean-Claude Henry for counterpoint, Norbert Dufourcq for the history of music, Betsy Jolas for analysis, finally, Rolande Falcinelli for organ (first prize in 1974) and while perfecting the piano with Lelia Gousseau, professor of piano and organ at the Municipal School of Music Fresnes (1974-1985).
She received the award for Vocation (1977) and the medal of honor of Saint-Julien (diocese of Le Mans, 1992).
She is a member of the Academy of Maine since 1993.
She teaches piano and organ since October 1997 and provides continuing education for liturgical organists in the diocesan seminary of the Star.
Holder of the organ in the Cathedral Saint Julien du Mans.