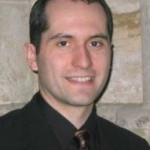 Born in 1974 in Cholet, Marc Chiron began his musical training in his home tocan before attending the Conservatory in Nantes where he studied organ, piano and composition, as well as music analysis and history of music.
After having been awarded the Gold Medal in Pascale Mélis' organ class, he continued his training with Olivier Latry at the Saint-Maur Conservatory where he won the Gold Medal in 1993.
Then he became a student at the CNSM in Paris, where he graduated with full honors in 1997 (diploma of the Superior Training Class), obtaining also the First Prize in Organ ( classes presented by Michel Chapuis, Olivier Latry, Michel Bouvard and Loïc Mallié), as well as in Basso Continuo and Renaissance Polyphony.
In 1992, he won the First Prize of the U.F.A.M. as well as the Inter-Conservatories Prize of the city of Angers in 1995.
In 2000, he reached the final round at the International Organ Competition 'Grand Prix de Chartres'.
He frequently presents recitals all over France and abroad. In Paris, he performed several contemporary works at the church of St. Eustache and the Champs-Elysées Theater.
Marc Chiron also performs in concert with orchestras or vocal ensembles : Orchestre National du Capitole of Toulouse directed by Michel Plasson, the Toulouse Chamber Orchestra, the Ensemble Vocal of Montpellier, the Ensemble Vocal of Toulouse …).
He bas recorded works with numerous ensembles and soloists. Recently, he was appointed titular organist at the Montauban Cathedral.