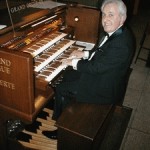 Tambyeff Raphael was born May 7, 1936.
From the age of four, he learned piano.
In Paris at the École César Franck and at the National Conservatory, Raphael Tambyeff study Harmony, Counterpoint, the Fugue, the history of music, and of course Organ and Improvisation .
His first post of organist at the age of 15 years.
Holder called the Great Organs of Our Lady of Grace de Passy, ​​in 1963, it is also since 1979, holds the Great Organs of Crematorium Père Lachaise.
His interest in contemporary music earned her many creations. He gives numerous concerts in France and abroad. Guest festivals, it also assists in Radio France.
Rigor, but also his desire to communicate, plus the natural gifts as a teacher, makes a teacher loved and sought after. It is part of many examination boards and international competitions.