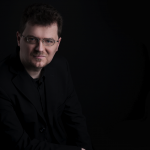 Born in Arzignano (Italy) in 1974, Pier Damiano Peretti was a organ scholar at Conservatorio Pedrollo, Vicenza from 1991-96 (Antonio Cozza). While there he attended numerous master classes (including : Luigi Ferdinando Tagliavini, Harald Vogel, Jaques van Oortmerssen, Jean-Claude Zehnder, Rinaldo Alessandrini), acted as choir conductor and studied composition with Wolfango Dalla Vecchia, a former pupil of Goffredo Petrassi.
In 1996 he moved to Vienna, where he continued his studies at the Hochschule (now University) for Music and Performing Arts : Organ with Herbert Tachezi and Michael Radulescu, composition with Wolfgang Suppan.
In 1997, he was awarded three first prizes at italian organ competitions and in the following years at numerous international competitions (Pretoria, Bologna, Innsbruck, Hamburg, Toulouse). In 1999 he emerged as winner of the renowned St. Albans International Organ Competition.
From 1999 to 2002 he was awarded a scholarship by the "Stiftung Dr. Robert und Lina Thyll-Dürr" (Basel). In 2001 he spent a semester on an ERASMUS scholarship studying organ in Hamburg with Pieter van Dijk and Wolfgang Zerer.
Pier Damiano Peretti's concert career to date has taken him to the major centres of European organ music and in Japan, including Vienna, Paris – Notre-Dame, Edinburgh – St. Giles Cathedral, Chartres – Cathédrale, Internationale Orgelwoche Nürnberg, Tokyo – Musashino Hall, Göteborg – Örgryte Church, Alkmaar – Grote St. Laurenskerk, Minsk – Belarusian State Philharmonic, Morioka – Civic Concert Hall, Manchester – Bridgewater Hall, Haarlem – St. Bavo, Festival de Vitoria, Graz – Steirischer Herbst, Festival di Magadino, Moskau – Tschaikowsky Saal, Bilbao – Palacio de Euskalduna, Festival Internazionale Città di Treviso.
He graduated in Vienna in "Orgelkonzertfach" with distinction in 2002. In the same year he took up a position as professor for organ at the University for Music and Theatre in Hanover, Germany. Since March 2009 he has been professor for organ at the University of Music and Performing Arts in Vienna.
Within his broad range of musical interests, he has a strong focus on the historically informed performance approach, dealing particularly with italian and german baroque and J. S. Bach's output. Additionally, he actively pursues the music of our time : Pier's repertoire spans seven centuries up to works by Schönberg, Messiaen, Ligeti, Berio, Dallapiccola, Feldman, Huber, Rihm, Bettinelli, Dalla Vecchia, Heiller, Schlee, Radulescu.
Pier Damiano Peretti's performances have been broadcast by several radio stations (ORF, BR, NDR e SR2). His CD recordings are published by Ursina-Motette, Carrara, IFO-Records and Naxos and includes music by italian and spanish baroque composers, Dieterich Buxtehude's complete choral-fantasias, Bach's Dritter Theil der Clavierübung as well as organ works by Marco Enrico Bossi and Bruno Bettinelli.
He is regularly invited to give guest lectures and master classes : in the last years he worked as a guest teacher at the Internationale Orgelwoche Nürnberg, Edinburgh Organ Academy, Hochschule Stuttgart, GOART Göteborg, Norddeutschen Akademie Stade, Organeum Weener, Piteå Music Academy, Associazione Italiana Organisti di Chiesa, Leipziger Orgelakademie, Korean Organists Convention and other institutions.
Pier Damiano Peretti received important inspirations for his work as composer from Wolfango Dalla Vecchia and Thomas Daniel Schlee. He furthemore attended masterclasses in Composition at the Darmstädter Ferienkursen für Neue Musik (working with Wolfgang Rihm and Brian Ferneyhough) and at the Accademia Filarmonica di Bologna (with Azio Corghi).
As a free-lance composer, he increasingly accepts commissions mainly in the field of sacred music ("Die sieben letzten Worte Jesu" for vocal ensemble and string quartet, 2007; "Hortus animae", oratorio for mezzosoprano, tenor, choir and ensemble, 2009 ; "Peje IS je" for baritone, cello, organ and percussion, 2010/11, "Vigilia" for string quartet and organ, 2011 ; "Magnificat" for soprano, choir and orchestra, 2011).
Some of his works have been awarded at composition competitions and are published by Carrara (Bergamo), Strube (München), H&H Musikverlag (Helmstadt) and Alexander Meyer (Vienna).