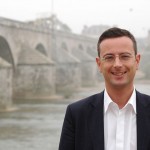 Olivier Périn, born in Orléans, took up organ music with François-Henri Houbart in his hometown music Conservatoire where he was awarded a First Prize with merit and a Regional First Prize, both unanimously approved, and a First Prize in musical theory. After studying for further proficiency with Louis Robilliard at the Lyon National Conservatoire – Conservatoire National de Région de Lyon – he graduated with a Superior First Prize. He went on to study in master classes under Michel Chapuis, André Isoir, Jean Boyer, Jan-Willem Jansen, and Jean-Charles Ablitzer and also with Thierry Escaich and Pierre Pincemaille at the Conservatoire de Saint-Maur-des-Fossés where he was awarded a First Prize for improvisation.
At the age of 22 he was entitled to the historic Cavaillé-Coll organ at Cathedral Sainte-Croix, Orléans. Furthermore he has been holding the Saint-Paul-Saint-Louis-du-Marais church organ, in Paris, since 1997, where he concurs ably to a high quality liturgic music and where he perpetuals with subtlety french improvising tradition.
From then on, Olivier Périn started a busy career as a concert performer in France and abroad. He was invited to play in and out of France, especially in Belgium, Germany, Sweden, The United States… He performed in Paris too (Notre-Dame, La Madeleine, Saint-Étienne-du-Mont, Saint-Roch, Notre-Dame d'Auteuil, Saint-Laurent), in Lyon (Notre-Dame de Fourvière) as well as many other French cities and cathedral festivals. He recorded several discs for the XCP label (Montpellier) especially in his own region ("Trois siècles d'orgue en Sologne") but also abroad. In Stockholm he recorded a disc entitled "From Johann-Sebastian Bach to Post-Romanticism" rewarded with 5 Diapasons and an excellent review and he also recorded the "Complete Christmas by Daquin" on the Stapelmoor French organ in Germany. Recently, he recorded the "Six organ Sonatas" by Carl Philipp Emanuel Bach.
He teaches improvisation at the Toulon Provence Méditerranée Conservatoire, where he was also assistant manager, responsable of Toulon's institution. In june 2010, he obtained the Aptitude Certificate for Director Functions from Ministère de la Culture. Since 2013, he is Director of the Regional Conservatory of Montpellier Mediterranean metropolis radiation.
He is regularly invited to foreign countries (Philadelphia, Brême, etc) to teach French baroque music particularly.
In competing for the "Concours international d'orgue de la Ville de Biarritz ", he obtained two prizes for improvisation : in 2001 the Special Prize "Prix du public", and in 2003 the "Grand Prix André Marchal". Founder in 2006 of the discographic label Yska, wich he's the artistic director, he also manages the Dimanches Musicaux of Madelein Church in Paris, who invite the best choirs and organistes.