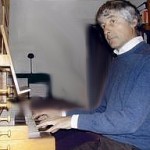 Born in 1955, Olivier Trachier joined CNSMD Paris after his graduate studies.
Winner classes of organ and music writing, he expanded his instrumental training with renowned organists before being rewarded in the tenth international competition of Bruges.
He holds the great organ of Saint-Gervais since 1989 and has performed in concerts, especially in European historical instruments. Named writing professor at the Conservatoire de Paris (1989) after having taught at the Conservatory of Reims, he created the class called Polyphony XV – XVII centuries, which develops an original teaching of early polyphony.
For its part, Musica practica, course at the Paris Conservatoire in 1998, allows him to showcase the practical aspects of the corresponding music theory (solmisation, terms, improvised counterpoint and writing, measurements and proportions, composition and rhetoric).
Strongly attracted by the Renaissance repertoire, Olivier Trachier published his research in various publishers (Durand, Minerva-CESR, Valentin Koerner, Fuzeau etc.) and focuses on the evolution of musical composition in the past centuries .
For the organ, he adapted various works of classical composers: Vivaldi concertos, JS Bach, two Fantasias for Orgelwalze and other works by Mozart (ed Combre).