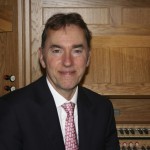 Thomas Trotter is one of Britain's most widely admired musicians. In May 2002 he received the Royal Philharmonic Society's prestigious Instrumentalist Award. The excellence of his musicianship has also long been recognized internationally in his musical partnerships. He performs as soloist with some of best conductors. He has performed recitals in Berlin, Leipzig, Vienna and at London's Royal Festival Hall. He has given the opening recital on new or restored organs in many places and he is regulary asked to perform on major historic instruments. He appears at the festivals of Salzburg, Berlin, Vienna, Edimbourg and London's BBC Proms. He performs with leading orchestras such as the Vienna Philharmonic, London Philharmonic, Royal Philharmonic, San Francisco Symphony orchestras.
Thomas Trotter's career is also firmly founded on his relationship with the City of Birmingham in England. Here he was appointed City Organist in 1983 in succession to Sir George Thalben-Ball and he is now also Resident organist of the magnificent new Klais organ at Symphony Hall in the city where he gave the opening recital in october 2001. He is also Organist at St Margaret's Church, Westminster Abbey in London and visiting Professor of Organ at the Royal College of Music also in London. Earlier in his career he was organ scholar at King's College, Cambridge and he later continued his studies with Marie-Claire Alain in Paris where he took the Prix de Virtuosité in her class. He won First Prize at the St Albans International Organ Competition in 1979 and made his debut in London's Royal Festival Hall the following year.
Alongside his weekly recitals in Birmingham, Thomas Trotter regulary performs throughout the USA and Europe. He is also an active recording artist. During 2002 he returns to London's Royal Festival Hall, gives two Messiaen recitals at the "Philharmonie" in Berlin, returns to France, Germany, the Netherlands and the USA and gives the opening recital on the new organ at the Esplanade Concert Hall in Singapour.