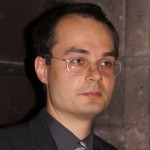 Michael Bártek is a laureate of the Young Organists' Competition in Opava (Czech Republic) in 2002, of the International Alexander Goedicke Organ Competition in Moscow in 2011 and he is an absolute prizewinner (1st prize and public prize) of the 13th International César Franck Competition Haarlem (Netherlands) in 2010.
Michael Bártek was born in 1984 in Brno, Czech Republic. He started playing the piano at the age of 7, the organ of 14, following a suggestion by Marie Karasová. He studied organ at the Brno Conservatory in 2000-2005 by Zdenek Novác(ek and Petr Kolar, since 2005 until 2009, he was a student at the Janácek Academy of Music and Performing Arts in Brno in the class of Vera Her(manová and Pavel Cerný. He took part of the half-year student stay (within the European student programme "Erasmus") in Strasbourg, France, by Parisian organist Christophe Mantoux (Saint-Séverin Church). He is a holder of a bachelor diploma of organ performance from Brno (2009) and of a "Master Professionnel" diploma (2012) from Strasbourg (studies of organ with Christophe Mantoux and Aude Heurtematte). Michael is also titular of a DEM diploma (2012) of harpsichord (studies with Aline Zylberajch in Strasbourg). Michael also studied with Martin Gester (baroque organ music) and Francis Jacob (basso continuo).
As a recitalist, Michael appears regularly in France, Netherlands, Germany and the Czech Republic. Renditions of his project The Ring are intended to be performed im many places in Europe. Currently, Michael lives in Strasbourg. He also teaches organ at the Protestant Organ School in Strasbourg (AFORGEP) and at the Music School of Sarre-Union and is a liturgical organist of the consistory Robertsau – Saint Matthew of Strasbourg.