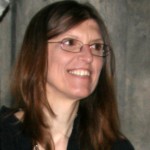 Pianist and organist, professor aggregated of Music, Catherine BARRET teaches since 1981 with the middle school of Illiers-Combray.
She begins her musical studies with the International Conservatory of Paris (Piano, Music theory) a prizewinner of which she is and perfects with Gabriel Tacchino. She supplements her formation in the Sorbonne where she studies Musicology and obtains the License.
Holder of the Capes in 198o, she teaches Musical Education without ceasing her personal formation: choir conducting and musical writing (Jean-Yves Aizic and Patrick Delabre), operatic singing with Didier Verdeille, Nicole Kuster and Gil Kether (then singers in the Opera of Paris).
She accompanied several choirs : Compostelle in Paris, Autrica to Lucé, Cluster in Lèves and the training courses of the Association Lyric Armor.
Holder of the Aggregation in 2003, she begins studying organ in the class recently created by Patrick Delabre, holder of the Great Church organ of Chartres' Cathedral.
Student in his class of the Conservatory of Chartres, she obtains a DEM of organ in 2012 and a First prize in the class of Improvement in June, 2014.