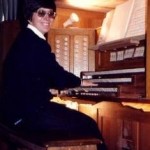 Anne-Marie BARAT was born in Fontainebleau June 20, 1948. It is dedicated to the early study of music and came at the age of 11 years at the National Conservatory of Music in Paris, where she made all his studies, thus providing a solid musical training.
Pianist, she studied with Marcel Ciampi and Vlado PERLEMUTER, and obtained a First Soloist Prize for Piano at the Academy Marguerite LONG.
Counterpoint First Prize, Award of Harmony, Fugue and Musical Analysis at the National Conservatory of Music in Paris, where she was the disciple of Henry CHALLAN, Norbert DUFOURCQ Pierre REVEL, DANDELOT Georges, Alain Weber, Marcel BITSCH and Elsa BARRAINE.
Then in 1970, under the guidance of his teacher André Marchal, of which she is the last student, she devoted herself entirely to the organ between the Organ Class Rolande FALCINELLI at the National Conservatory of Music in Paris where she obtained a brilliant First Prize in 1976 in his first contest.
She obtained in addition to the price and Albert Alexandre GUILMANT PERILHOU at the Paris Conservatory and became a soloist at Radio France in 1978.
In 1979, she wins the contest of "Organ of Friends" of Paris.
Great Organ of the owner of the St. Louis Church of Fontainebleau in 1974 and simultaneously from 1982 assistant Canon Henri DEAN Grand Organ of the Cathedral of Soissons, she became the holder of the instrument at Easter 1988.
In St. Louis Fontainebleau actively supervises the restoration of the organ in consultation with the organ builders and Benoist SARELOT and the Municipality.
Popular educator, she taught organ and Scripture at the Municipal School of Fontainebleau Music and Organ at the Conservatory Roger BOURDIN of Marly-le-Roi. Among his former students who pursue a successful career include Eric Lebrun in France and Emmanuel LE DIVELLEC Switzerland.
In 1987 she was a visiting professor for Organ Class the American Conservatory in Fontainebleau.
His concert career has taken both in France and abroad.
In Paris (Notre Dame, Saint-Louis des Invalides, St. Augustin, St. Louis d'Antin, Notre-Dame de Lorette, Saint-Louis de la Salpetriere, Studios 103 and 104 Radio-France), the cathedrals of Besançon, Chartres, Versailles, Dijon, Amiens, Beauvais, Angoulême, Meaux, Bourges, Quimper, Auxerre, Soissons, Bellay and many festivals; Lannion, Guitres, Honfleur, Locronan, Carnac, Biarritz, Saint-Pierre-Quiberon, Bergerac, Auditorium Maurice Ravel in Lyon … and abroad in Belgium, England, Morocco, Switzerland and Germany.
She was a member of the Committee of the Organ of Seine-et-Marne before the General Council and a member of the jury: City of Paris Conservatoire National Supérieur de Musique de Paris, Ecole Normale de Musique de Paris, Schola Cantorum, Competition Friends of the Organ, International Competition of Beauvais.
The 21 December 1990 on the N7 between Fontainebleau and Nemours, she is suddenly removed from the affection of his people, as she was the rescue of a car accident.