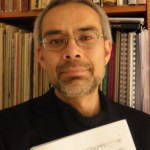 Born in London in 1966, PETER BANNISTER began his musical studies with David de Warrenne (piano) and John Shepherd (organ). After obtaining the piano performer's diploma of the Royal College of Music in 1985, he read Music at King's College, Cambridge, where he gained a first class BA and an M. Phil in Musicology. He completed his studies in Paris between 1989 and 1993 with Genevieve Ibanez, Michel Beroff (piano) and Naji Hakim (composition), where he currently lives as a freelance musician.
He has been the winner of several prizes at national and international level as a composer and performer: Prix André Caplet for composition, Académie des Beaux-Arts (Institut de France) 1999 Nürnberg International Organ Improvisation competition (Johann-Pachelbel-Preis) 1996 Chartres International Organ Competition – improvisation 1992 Royal National Eisteddfod of Wales – piano 1984 He has also been the recipient of prizes and scholarships from Cambridge University, the Countess of Munster / Leverhulme Trusts and the French Government. In 2007 three of his works received awards at the International Composition Competition in San Sebastian (Spain).
His catalogue comprises orchestral, choral, chamber and solo vocal and instrumental music, with performances in Europe (South Bank Centre, St John's Smith Square, Festival Klangbogen Wien, Berlin, Paris, Festival J.S. Bach St Donat, Bourges, Chartres, Chichester, Münster, Oliwa, Trieste, Ulm Cathedrals, Würzburger Bachtage) and North America (Ann Arbor, Boston, Cleveland, Los Angeles, New York) as well as broadcasts on Italian and American public radio. In 2002 he was a featured composer at the Rencontres Musicales de La Prée chamber music festival. In March 2004 John Nelson and the Ensemble Orchestral de Paris gave the first performance of his "Nuages de Magellan" at the Théâtre des Champs-Elysées, followed in 2006 by "Pursued by Bronze Horsemen" in memory of Shostakovich. Current projects include the choral cycle "Da stand das Meer" on texts by Dietrich Bonhoeffer, "Abendempfindung" for the Polish soprano Aleksandra Zamojska, "The Sign of the Son of Man" for organ, a trio entitled… jakby na krawedzi swiata for the New York clarinettist David Gould, an oratorio "Et iterum venturus est" for John Nelson and the SOLI DEO GLORIA foundation (Chicago) as well as a large symphonic work for the Niederrheinische Sinfoniker.
As a solo pianist and organist, he has been invited to give concerto performances (Händel, Beethoven, Chopin, Rachmaninov…) and recitals in Britain, Austria (Wiener Stephansdom), Croatia, Denmark, France (Notre-Dame de Paris, Bourges and Chartres Cathedrals), Germany (Baden-Baden, Bayreuth, Bochumer Orgeltage, Hannover, Stuttgart), Holland, Italy (Arezzo, Chiusi, Padova, Ravenna, Udine), Poland, Switzerland, the Czech Republic and the USA. Improvisation and contemporary music (Gubaidulina, Kurtag, MacMillan, Pärt, Tom Johnson) feature prominently in his programmes. He has given lectures, conference papers and masterclasses in Britain, Sweden (Gothenburg Organ Art Academy), Croatia (Organnum Histriae) and the USA (Carthage College Organ Festival, Wisconsin). As a pianist/vocal coach/assistant conductor he has worked in recent seasons with the Festival International Lyrique d'Aix-en-Provence, the Opéra National de Paris, the Théâtre du Châtelet and Choeur de Chambre Accentus with conductors such as Sir Simon Rattle, James Conlon, Gennadi Rozhdestvensky, Vladimir Jurowski, Sylvain Cambreling, Jiri Belohlavek, Jukka-Pekka Saraste and various international opera soloists.