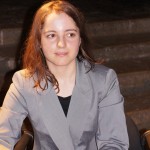 Born in 1992 in Auxerre, Mélissa OSKWAREK began music with the study of the piano. Then, she discovered the organ and studied with Jean-Philippe Mesnier in the conservatory of this city. She obtained the first diploma in theory of music in 2008 and the first diploma in organ in 2010.
Then, she entered the conservatory in Saint-Maur-Des-Fossés, near Paris, when she studied with Eric Lebrun and obtained the "Perfectionnement Prize" in 2012 and bachelor's degree in musicology at University of Sorbonne.
Now, she studies in Master's degree to the Conservatory (CNSMD) to Lyon with François Espinasse and Liesbeth Schlumberger and to the University of Lyon 2 (Master's degree education of the music).
She is titular-organist at Sainte Thérèse to Villeurbanne.
She is laureate of prize "Jean-Sébastien Bach" in the International Organ Competition of Biarritz.