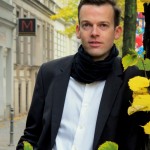 Christoph Ostendorf, is born in 1981. After his first studies by Markus Eichenlaub and Roland Maria Stangier he gratuated from the conservatory Folkwang in Essen/Germany.
From 2002 to 2006 he used to be organist of the church "Herz Jesu" in Bottrop. He was also assistant of the International Summer-Master-Classes of Gregorian Chant and of the Festival "Orgel Plus".
He participated to the master-classes given by Jon Laukvik, Gerhard Weinberger, Alexander Fiseisky, Pieter van Dijk and Tomasz Nowak.
Since 2006 he studies conducting by Jörg-Peter Weigle at the conservatory "Hanns Eisler" in Berlin and continues his organ-studies with Patrick Delabre in Chartres.