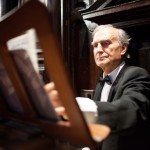 Louis ROBILLIARD has a First Prize in Organ an improvisation unanimously awarded – from the National Superior Conservatory of Music in Paris.
Professor of organ at the National Regional Conservatory in Lyon, titular organist of the Cavaillé-Coll organ at the church of Saint François de Sales in Lyon, Louis ROBILLIARD is one of the most well-known organiste of his generation.
He plays regularly in numerous festivals, tours annually abroad, particularly in the U.S.A., giving many concerts and masterclasses, and serves on many international furies.
The interest he has for organ-bulding and protection of historical instruments has led him to be a member of the National Superior Commission of Historical Organe for 10 years.
He has made numerous recordings (works by Claude Ballif, Liszt, the Vienna School, Widor, as well as a record of improvisations).
He was awarded the Grand Prix du Disque and the President of the Republique Prize for his recording of « Imaginaire IV » by Claude Ballif.
At the center of his vast repertoire, Louis ROBILLIARD. performer, transcriber, improviser. acknowledges a preference for the 19th Century, whose aesthetics dictates that the organist be an « inspired architect », bringing together virtuosity, mastery of the instrument, science of Sound levels… all in service to music that is generous, lyrical and grandiose. For him, « Music is the indiscernible breath of another life, hidden, unfathomable… ».
http://fr.wikipedia.org/wiki/Louis_Robilliard