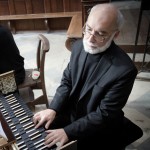 Lorenzo Ghielmi teaches at the Hoschule für Musik in Lübeck (Germany) and at the Milan Accademia Internazionale della Musica. He is also organist on the Ahrend organ (1991) at the basilica of San Simpliciano in Milan where he played the complete organ work of J. S. Bach. He lives with his wife Elisabetta and five children in a small village near the border to Switzerland.
He gives concerts throughout Europe, Japan and United States as an organist and harpsichordist and with his group "la Divina Armonia".
He has made many radio and CD recordings (including for Teldec, Harmonia Mundi…). Two of is latest recording has been awarded with "Diapason d'or".
He combines his concert activities with a passion for musicological research : he has brought out editions of music by Frescobaldi and composers from Milan, as well as studies dealing with 16th and 17th century organ building and with Bach interpretation. Recently he has written a book on Bruhn's organ works.
He is often invited to sit on juries for international organ competitions (Toulouse, Milan, Bruges, Tokyo) and to give lectures and masterclasses, including the Harleem Academy.
Lorenzo Ghielmi was the main artistic consultant for the new Mascioni organ constructed at Tokyo cathedral.