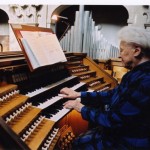 Born in Paris, she studied at the National Conservatory of Music where she was awarded many first prizes : organ, improvisation, music history, counterpoint and fugue.
Organist, concert artist, professor, Marie-Louise GIROD has made herself known through her concerts troughout Europe, through her permanent contributions to multiple radio programs and her important activity as a pedagogue.
President of the Saint-Dié Organ Academy, member of the Superior Commission of Historical Monuments, president of the organ section of the Protestant Federation of France, soloist at the French radio : O.R.T.F., composer, Marie-Louise GIROD has been the organist of the Oratoire du Louvre in Paris for many years.
The high conception she has of her task is not without analogy to her pastoral vocation.
Her participation in the liturgical development of the church service is a tributs to the authenticity, joy and richness of the Évangile.
Brillant improviser, knowing how to weld together both talent and technique, with strength and sensitivity, Marie-Louise GIROD expresses through her organ-playing, not without a certain note of humer, a way of thinking that is ever alert.
Marie-Louise GIROD as official photographer, joined her husband, the famous archeologist, André PARROT, member of the Instituts and director of the Louvre Museum, on many important expeditions.
She died August 29, 2014 (98 years) in Paris.