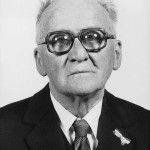 GERGELY Ferenc (Budapest, September 1914 -10 ; Budapest, 1998 – 18 March).
He studied organ between 1933 and 1940 at the Budapest Academy of Music with Zalánfy Aladárné, piano with Géza Wehner, composition with Albert Siklos.
1934 music teacher in 1942, he was a pupil of Arthur Dew, Lajos Bardos and Adam Eugene as well as Raminnál Günther in Leipzig and Olivier Messiaen in Paris.
Church organist, conductor until 1948. Teacher of Zenedében and high school Béla Bartók, then at the Academy of Music. International concert.
Member of the Jury Grand Prix de Chartres in 1972.
Recognized by several awards (Liszt Prize in 1994, Kossuth Prize in 1989).
He was appointed by Pope John Paul II Knight of the Order of St. Gregory.
Died in 1998.