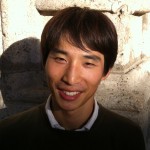 JOONHO PARK was born in 1985, in Seoul, South Korea.
At the age of 15, he began organ playing and got enrolled in the pre-college program of the Korea National University of Arts (KNUA) in the class of Prof. Jakyung Oh, from which he graduated with the degrees of Bachelor in 2007.
Since 2008, Joonho has been studying under tutelage of Professor Jon Laukvik at the University of Performing Arts and Music in Stuttgart, and has completed his Master degree. Currently, he is pursuing further studies in Stuttgart.
Joohno Park won many prizes in international competitions : first prize Jangcheon-Klais competition in Korea (2003) ; first prize and Bach Contest in Graz (Austria) in 2006 ; second prize and special prize at the International Mozart Competition in St. Moritz (Switzerland) in 2007 ; Third Prize and Audience Award at the International Competition Musashino-Tokyo (Japan) in 2008, and first prize at the International Competition in Nuremberg (Germany) in 2009.
In 2011 he won first prize at the International Competition of Dublin (Ireland).
In 2012 he won the second prize for interpretation – International Competition of Chartres.
At home, he runs 'Noon-hour Concerts' at the Seoul Presbyterian Church where he served as organist for several years. He peforms regularly as a solo organist and with KNUA Symphony Ochestra in Seoul. His international performing tours have taken him to Germany, England, Japan and now to Ireland.