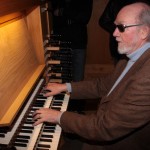 The principal studies of Jean-Pierre Leguay were with André Marchal and Gaston Litaize (organ). At the Conservatoire National Supérieur de Musique in Paris, he studied with Simone Ple-Caussade (counterpoint), Rolande Falcinelli (organ) and Olivier Messiaen (composition).
Among the numerous honors he earned were 1st prizes in organ, improvisation and composition at the Conservatoire National Supérieur de Musique de Paris, 1st prize for improvisation on organ and 2nd prize on piano at the Concours International de Lyon.
After serving from 1961 to 1984 at the Church of Notre-Dame-des-Champs in Paris, Jean-Pierre Leguay was appointed titular organist at Notre-Dame Cathedral in 1985.
Internationally recognized (throughout Europe, North America and the Far East), Jean-Pierre Leguay pursues a career as concert organist, composer, and improviser (organ, piano and in ensembles). His busy schedule takes him for concerts and master classes.
He has recorded a number of albums on various European labels (Euromuses, Festivo, Gallo, Hortus, Lade, 3D Classics,…) devoted to the repertoire from XVIIe to XXe century (Bach, Brahms, Mozart, Liszt, Vierne, Franck,…), his own compositions and improvisations.