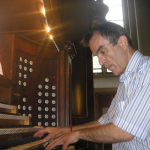 Jean-François Vaucher started to play the piano at a very young age with François Riat and continued with the celebrated swedish pianist Inger Wikström.
At fifteen he started to study the organ with François Demierre, the friend and condisciple of André Marchai, and continued his studies with Pierre Segond at the Geneva Conservatory where he obtained a first prize for virtuosity in 1975.
In the saine year he was appointed principal organist at the church of Saint-François in Lausanne, and since then, he has continued his carreer as soloist, throughout Europe.
Since then, he has been regularly invited as professer at the sommer academy of Saint-Dié in France where he shares the task of teaching with important world personalities such as Luigi Tagliavini, Xavier Darasse, Bernard Lagacé, Louis Thiry, and he is regularly invited to be member of juries for international competitions.
Since 1985, he shares his carreer as soloist with that of professer- at the Lausanne Conservatory. His repertory, which extends from ancient to contemporary music, has often been recorded by the radio and on record.