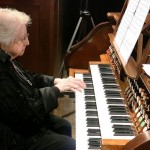 Montserrat Torrent began taking piano lessons with her mother, who had studied under Enrique Granados, Catalan pianist and composer of classical music. At the end of the Spanish Civil War, Montserrat entered the Municipal School of Music in Barcelona. Once she had completed her piano studies she realised her favourite musical instrument was the organ. She later took lessons with Noëli Pierront in Paris. Upon returning to Barcelona she began to work on the restoration of antique organs together with master organ builder Gabriel Blancafort.
She began teaching in 1956 when she was offered a post as an organ lecturer at the Higher Municipal Conservatory of Barcelona. In 1991 she was made professor emeritus. The majority of organ professors and lecturers in Spain have taken lessons from her.
Montserrat Torrent has performed all over the world, both as a soloist and with large orchestras. In the course of her professional trajectory she has received several honours and awards, including the Grand Prix du Disque from the Charles Cros Academy in Paris (1965), the Honorary Medal from the Royal Conservatory of Madrid and the National Music Award from the Catalan Government.
The awards ceremony took place on 27 May at 12pm at the conference hall (Sala d'actes) of the Rectorate building, and included speeches by Torrent's sponsors, professors Cèsar Calmell and Joan Casals of the Department of Musical Education, Plastic and Body Expression Teaching. In her acceptance speech, Torrent fondly recalled those who had taught her and stated that "for me, music is like a stream of pure water that absorbs us and melts us with its force".
The ceremony ended with the interpretation of Gaudeamus Igitur by the UAB Choir and a few words by UAB Rector Lluís Ferrer, who declared that the University was honoured to present its most prestigious academic award to someone who had strived to preserve the country's cultural heritage by recovering and restoring several organs destroyed during the Civil War, as well as being a teacher and guide to so many organ players in Catalonia and all of Spain.