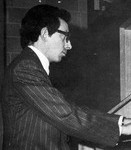 Herman VERSCHRAEGEN, born in Ghent 4 April 1936, was organist at St. Joseph's Church in Antwerp, professor of organ at the Royal Conservatory of Brussels (Flemish section), and director of the Music Academy Wilrijk (Antwerp).
After studying at the Royal Conservatory of Ghent, where he obtained first prizes in different disciplines and the Higher Diploma with highest honors and the prize for virtuosity Government organ, he is distinguished international Geneva Competition (Switzerland) Saint-Maximin (France), Graz-Seckau and Innsbruck (Austria) and Munich (Germany).
During his tours of annual concerts (nearly 350 recitals), he played in the most important cities in Europe, the United States, in Israël and South Africa, he recorded for international broadcasts of Belgium, Denmark, Germany (East and West), England, France, Israel, Netherlands, Austria, Poland, Czechoslovakia, United States, South Africa, Switzerland and Sweden.
VERSCHRAEGEN Herman was a member of the jury for International competitions Nuremberg and Lokeren. He is also the founder-president of the "Orgel Wintercyclus" in Antwerp ; founding member of "Kunsten Cultuurcentrum Oosterveld" in Wilrijk ; founding member of the "Antwerps Bachgenootschap" ; member of Wilrijk Cultural Council.
† 1994