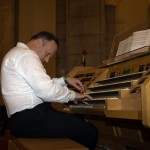 Henri Pourtau, Director of Music at Notre Dame de Bon Voyage Church in Cannes, France.
Pourtau has an active career as a concert organist, participating in numerous international festivals and appearing as soloist with the Philharmonic Orchestra of Monte-Carlo, Philharmonic Orchestra of Nice, and the Instrument Ensemble of Grenoble. He often gives master classes on the performance of French organ music and has performed for radio and television broadcasts, including Poulenc's Organ Concerto with the Virtuosi of France for "Musiques au Cœur" by Ève Ruggieri.
Pourtau is founder and Artistic Director of the Friends of the Organ of Cannes and created the organ series, Cycle d'Orgue International de Cannes.