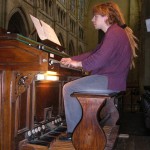 After his first organ lessons with Jean-Albert Villard, Guillaume Prieur continues his training with Dominique Ferran at the Regional Academy of Music in Poitiers.
He obtains the Diploma of Musical Studies in 2006 in the class of Patrick Delabre of the National Music School in Chartres, then in 2008, the postgraduate diploma at the Regional Academy of music in Rouen, under the direction of François Ménissier.
In parallel to his professional organist training, he studies harpsichord and basso continuo with Irène Assayag.
Guillaume Prieur is also holding the diploma of musicology of Poitiers university, and he, graduated in composition at the National Academy of Music in Paris, where he also obtained prizes in harmony (Yves Henry), counterpoint (Pierre Pincemaille) and polyphony of the Renaissance period (Olivier Trachier).
Since Septembre 2008, Guillaume Prieur is pursuing his organ studies at the National Academy of Music in Lyon, with François Espinasse and Liesbeth Schlumberger.