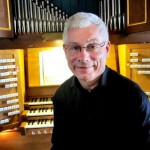 Hans Fagius (born 1951 in Norrköping, Sweden) studied the organ with Bengt Berg, and, at the Stockholm College of Music, with professor Alf Linder. In 1974 he continued his studies with Maurice Duruflé in Paris. During his years of study he twice won prizes at international organ competitions (Leipzig and Stockholm) .
Hans Fagius has given récitals all over Europe, in Australie, USA and Canada. In the summer 1994 he played at the National Convention of The American Guild of Organiste in Dallas. On the Swedish label BIS he has made numerous recordings, including a complete recording of the organ works of J. S. Bach on 17 CDs, a disc with music by W .A . Mozart, symphonies by Widor, a great part ot the organ works by Saint-Saens, and recordings with four hand organ repertoire as well as music for organ and piano. His recordings of Liszt's three great organ works won the Grand Prix du Disque Liszt in Budapest 1981. Recently released productions are more symphonies by Widor (n° 2 et 8), and the Art of the Fugue by J. S. Bach. During the spring 2000 he will record music by S. Karg-Elert. The repertoire concentrates on early music and music from the romantic period.
After several years as organ teacher at the Colleges of Music in Stockholm and Gothenburg, Hans Fagius was in 1989 appointed professor at the Royal Danish Music Conservatory in Copenhagen. He has also several times been a jury member at international organ competitions.
In 1998 he was elected as a member of the Royal Swedish Music Academy. For the Year 2000 Hans Fagius is engaged for concerts, masterclasses and jurys charges in the Scandinavian countries, England, Austria, France, Belgium and Slovenia.