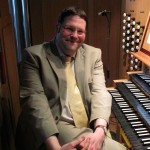 Born in Hereford in 1976, Henry Fairs studied in Birmingham, graduating with first class Honours in 1998.
A prize-winner at FRCO, he was the recipient of a Countess of Munster Trust Award which enabled him to study in Paris with Susan Landale, where he won a Premier Prix in organ. He also studied interpretation and improvisation with Thierry Mechler at the Musikhochschule in Cologne.
Henry Fairs is an organ tutor at the St. Giles International Organ School in London and Director of Music at Bromley Parish Church.
He also teaches organ at Eltham College where he co-ordinates annual study trips to France and Germany. Recent engagements have included performances of the Poulenc Organ Concerto and Saint-Saens Organ Symphony, and in January 2002 he performed the complete organ music of Maurice Duruflé on the centenary of the composer's birth.
Next months he will be appearing as soloist with "Eurobrass Strasbourg" at the Silbermann organ in Ebersmunster, Alsace, and he will give the opening recital in the International Organ Series at the St. Petri Kirche in Hamburg.
In 2002 he obtains the "Prix Maurice Duruflé" during the Concours International d'Orgue de Chartres.
Other engagements include recitals in the International Series at Notre-Dame in Thierenbach, Alsace, the Evesham and Gower festivals, and at Horsham, Farnham, Westminster Abbey and Oxford Town Hall.