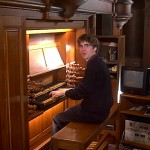 Ghislain Leroy was born in Tourcoing (France) in 1982. Both his father and mother are organists.
Alongside his secondary education, he also studied the piano, the organ as well as composition.
From 2001 to 2003, he attended François-Henri Houbart's class at the Regional National Conservatory in Rueil-Malmaison where he was awarded a First Prize and an Advanced Prize for the organ. In 2004 he won the Harmony Prize at the Higher National Conservatory of Music and Dance in Jean-François Zygel's class. In the organ class at the Higher National Conservatory of Music and Dance in Lyons, he studied under Jean Boyer, Louis Robilliard, Liesebeth Schlumberger and François Espinasse.
The Jury of the Fifth City of Paris International organ Competition, under the presidency of Michel Chapuis, awarded him the "Premier Grand Prix d'Interprétation". At the age of twenty-two, this prize launched him on the international scene. He regularly gives concerts in Paris (Radio France, Notre-Dame, St Eustache ) as well as at the principal French cathedrals. In addition, he has been invited to several major festivals in Europe, Russia and Asia.
He has realized three cds recordings, including repertoire from the 17th century to the present day. Keen to promote contemporary organ music, he regularly includes works by Jean-Louis Florentz, Jean-Pierre Leguay, Valéry Aubertin and Thierry Escaich in his concert performances. He gave the first performance of both Deux pièces d'orgue and "Et l'unique cordeau des trompettes marines" by Thomas Lacôte.
In 2005, he undertook a research project concerning the composer and organist Xavier Darasse, and made an inventory of the document collection held by the Higher National Conservatory of Music and Dance in Lyons.
He is supported by Cultures France through the Déclic program for young artists, in collaboration with Radio France and Mécénat Musical Société Générale. He is sponsored by the ADAMI on the year 2007.
In 2007, he was appointed as resident organist at the Sapporo Concert Hall Kitara, in Japan. He took part to several concerts abroad Japan (Sapporo , Tokyo, Kanazawa …). He has been chosen to give two exceptional concerts with the NHK Symphony Orchestra conducted by Charles Dutoit and broadcasted in live on Japanese radio/television.
Ghislain is presently teaching organ at the Soissons and Laon Conservatories. He also plays two importants organs in Le Touquet and at Notre-Dame de la Treille cathedral in Lille.
http://www.ghislainleroy.org/Accueil.html