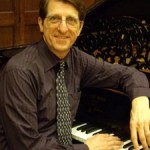 A native of Washington state, Fred Gramann began his early organ studies with Dr. Edward Hansen of Seattle, winning the student organ competition sponsored by the Seattle Chapter of the American Guild of Organists while still in high school. While earning a bachelor's degree in organ performance at Syracuse University, he won first prize in the 1972 Ft. Wayne National Organ Competition and was awarded the Arthur Poister Prize for outstanding organist in the Syracuse University School of Music for four consecutive years.
From 1972-75 Fred Gramann studied organ in Paris, France, with Marie-Claire Alain, also spending one year working with organist and composer Maurice Durufle. Fred earned a master's degree in organ performance at the University of Michigan during the 1975-76 school year. He returned to Paris in 1976 as Director of Music at the American Church in Paris, the oldest non-governmental American institution abroad, recently celebrating his 30th year of music ministry.
Fred Gramann started a handbell program at the American Church in 1981 thanks to a gift of 2 octaves of handbells. The program has since grown to include three handbell choirs performing on 5 octaves of Schulmerich handbells, 4 1/2 octaves of Malmark handbells, 4 octaves of Petit and Fritsen handbells, 5 octaves of Choirchimes and a growing set of Whitechapel handbells. Fred Gramann has had numerous choral anthems and handbell works published in the US and is Honorary Associate Director of the Raleigh Ringers.