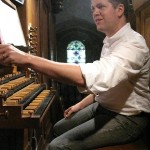 Vincent GRAPPY is titular organist of the Cathedral of Blois. He has completed organ studies with Francois-Henri Houbart, Marie-Claire Alain and Louis Robilliard.
Also a harpsichordist, he was a pupil of Olivier Baumont and of Bob van Asperen.
He is laureate of international organ competitions of the City of Paris (2002) and of Chartres (2004), awards that mark a transition to the professional world and offer the opportunity to many concerts in France and abroad.
Eclectic musician, he grows an organ repertory as wide as possible and a diligent practice of chamber music and choir accompaniment.
Vincent Grappy also holds the Certificate of Aptitude as professor of organ and he is artistic director of chamber music competition "Musique au Centre".